It seems that all the rain events this year have led to flooding. Yesterday's storm near Montgomery, AL, dropped over 10" of rain in isolated spots with the same storm back-building and training over the same area throughout the day. Water rescues and unfortunately a death resulted. TURN AROUND, DON'T DROWN!™ Today, it looks like they had a similar set-up near Nashville, TN. Urban flooding is always bad with heavy rains, but when those storms start training over one area, it really compounds the problem. Moving west from there, we were seeing a derecho wind event this morning in Kansas associated with a line of storms moving in excess of 70mph with even stronger embedded winds.
That line has obviously raced eastward, forcing a moderate risk for severe weather and a Potentially Dangerous Situation (PDS severe watches have been issued) in the Arkansas/Missouri area. A public severe weather statement has also been issued.
THE NWS STORM PREDICTION CENTER IN NORMAN OK IS FORECASTING THE DEVELOPMENT OF WIDESPREAD DAMAGING WINDS OVER PARTS OF SOUTHERN MISSOURI AND NORTHERN ARKANSAS THIS MORNING THROUGH MID DAY.

WELL DEFINED...VERY STRONG THUNDERSTORM COMPLEX IS MOVING ACROSS SOUTHEASTERN KANSAS INTO SOUTHWESTERN MISSOURI EARLY THIS MORNING. WIDESPREAD DAMAGING WINDS ARE EXPECTED TO ACCOMPANY THE STRONGEST PORTION OF THIS COMPLEX AS IT SURGES EAST AT ROUGHLY 60 MPH ACROSS SOUTHERN MISSOURI...POSSIBLY EXTENDING INTO NORTHERN ARKANSAS. VERY STRONG WINDS HAVE ALREADY OCCURRED WITH THIS SYSTEM OVER PARTS OF SRN KANSAS WHERE GUSTS HAVE APPROACHED 80 MPH DURING THE OVERNIGHT HOURS.
The line out ahead of that (the one flooding Nashville this morning) is now moving through north Georgia and the Carolinas.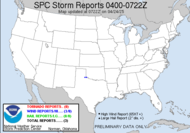 At the time of my post, there were already 3 tornado reports, but it's very possible that much of the damage will be evaluated as wind damage from straight line winds, rather than tornadoes, just based on the dynamic of the system.

Be safe! Listen for warnings on your NOAA Weather Radio, and take all warnings seriously.

12:12EDT update: My... how things change so quickly when a storm is racing across the country. Compare the area of moderate risk...
~Dewdrop